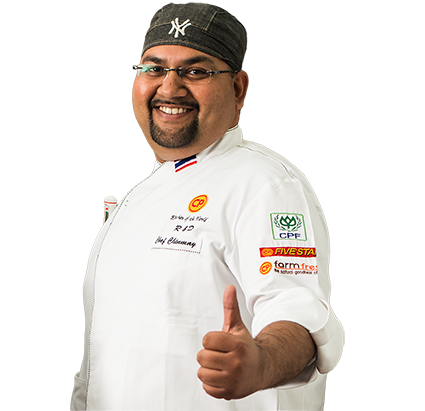 Chef's Corner
Chef Chinmay Kulkarni is responsible for developing new products for Five Star Chicken, CP Package Food Division and CP Farm Fresh as well as for all QSR's. At CP Foods, he has contributed to various product categories such as marinated products, emulsified products, whole cooked products, spices and seasoning and fried chicken.
Chef Chinmay has completed his Master's Degree in Hotel Management from the Institute of Hotel Business Management, Pune. He also holds a certificate in Marination, Breading and Battering from A&M University in Texas, USA. He has won 12 gold medals with an honorary prize and 6 gold medals at the 18th and 19th haul at International Competition for Meats & Sausages at Wels, Austria.
Prior to CP Foods, Chef Chinmay worked at Venky's India in the Research and Development department for 5 years. He was also associated with hotels in India like Taj Group, Le Meridian and Best Western as a Chef.
With his expertise and in-depth knowledge about the food industry especially in meat processing, Chef Chinmay aims to bring innovation to the Indian food market through CP Foods.